Jenny Joans: Perfect Casual Jeans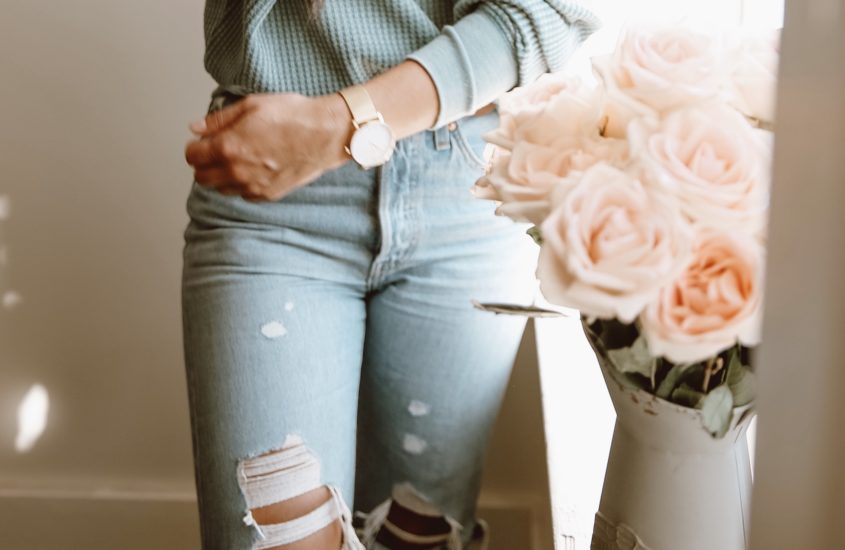 It's true, I have found the perfect pair of casual jeans. I made sure to add casual in there because you may not want to wear these to work or to a dressier event as they have holes in them but when it comes to a casual outfit, these are perfect!  They're not too expensive, comfortable and they go with everything!
I found these Levi's at none other than Jenny Joans and I have been wearing them nonstop since they arrived at my doorstep.  I'm not going to lie, until this pair, I really wasn't much for Levi's denim.  I found them to fit really small and at times to be uncomfortable.   I always leaned towards Agolde, and although I still absolutely love everything Agolde makes, they are definitely not within every shoppers budget.  They can run anywhere around $250 – $300 for a pair.  I would be lying if I said I didn't think they were worth it so if you're not afraid to drop some cash on jeans these are awesome, but that vast majority of the population is not and I am here to tell you that you don't have to in order to own some fantastic jeans.
These Levi 501's have changed my opinion of Levi's! They are 100% cotton making them that classic denim look and feel which I have been loving these days.  They're cropped which works perfect for shorties like me, they have a button fly, and they're fitted through the thighs and hips (to show off that bootie) but are straight through the leg and they have a great price point of just over $100!  I am wearing a a size 26. Typically I will wear a 25 if they have some stretch but if they don't (like these) I will size up to a 26.  I ordered the 26 and they fit great.  I did find they loosened up a bit over time but I like that.  If you want them to stay skin tight, I would say stick to your true size.
Many of you tuned into my Try on Tuesday and also liked the look of these jeans because they sold out within a day or two!  Lucky for you Jenny Joans knows whats up, and they are taking preorders so you can get your hands on them!  If you choose to order them now the delivery would be between March 13- 20th!

This denim shirt is another gem from the try on Tuesday and is such a good find! I literally wore my old one out… I blew the elbow out in it! I ordered a medium so that it's more of a boyfriend fit!
This waffle long sleeve was also a huge hit- this colour is sold out but if you're into neutrals this exact long sleeve is available in white! I am wearing an XS and it fits perfectly, not too tight!

Special thanks to Jenny Joans for partnering with me on this post! And thank YOU for supporting all of the brands I love to work with on Teach Me Style, I couldn't do it without you!